Mi Rancho Supermarket founded in 1994 has always been about family. We strive to continue to offer a unique friendly customer service.
At Mi Rancho Supermarket, we shop for products with our customers in mind. Our goal is to buy locally as often as possible. We look for the best products at the best affordable price to give you the best price, just like you would with your family, after all, that's how we see our customers… "Welcome to the Family".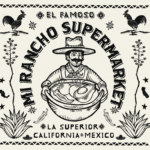 Discover the special offers that we bring each week for you.
Download the application, fill in your information and go to the store to deliver it to the team in charge of Mi Rancho Supermarket.
137 Roosevelt Ave.
Redwood City, CA 94063
phone: (650) 780-9410
150 Charter St.
Redwood City, CA 94063
phone: (650) 780-0330
2806 Story Rd.
San Jose, CA 95127
phone: (408) 259-3333
3840 Monterey Hwy.
San Jose, CA 95111
phone: (408) 622-5344
15850 E 14th st,
San Leandro CA 94578
phone: (510) 274-5133